If you need to make a backup of all of the data on your Mac, this guide will help you to back up the most common items that people use on their Macs. Please note that backups are the responsibility of the user, not the technology team. We will do everything we can to help you, but in the end, it's your responsibility to make sure you're saving everything that is important to you on a regular basis.
Where is everything?
Your home folder is the folder that is named with your name (first.last). It should contain all of the files that you've saved. Follow these instructions to get to it: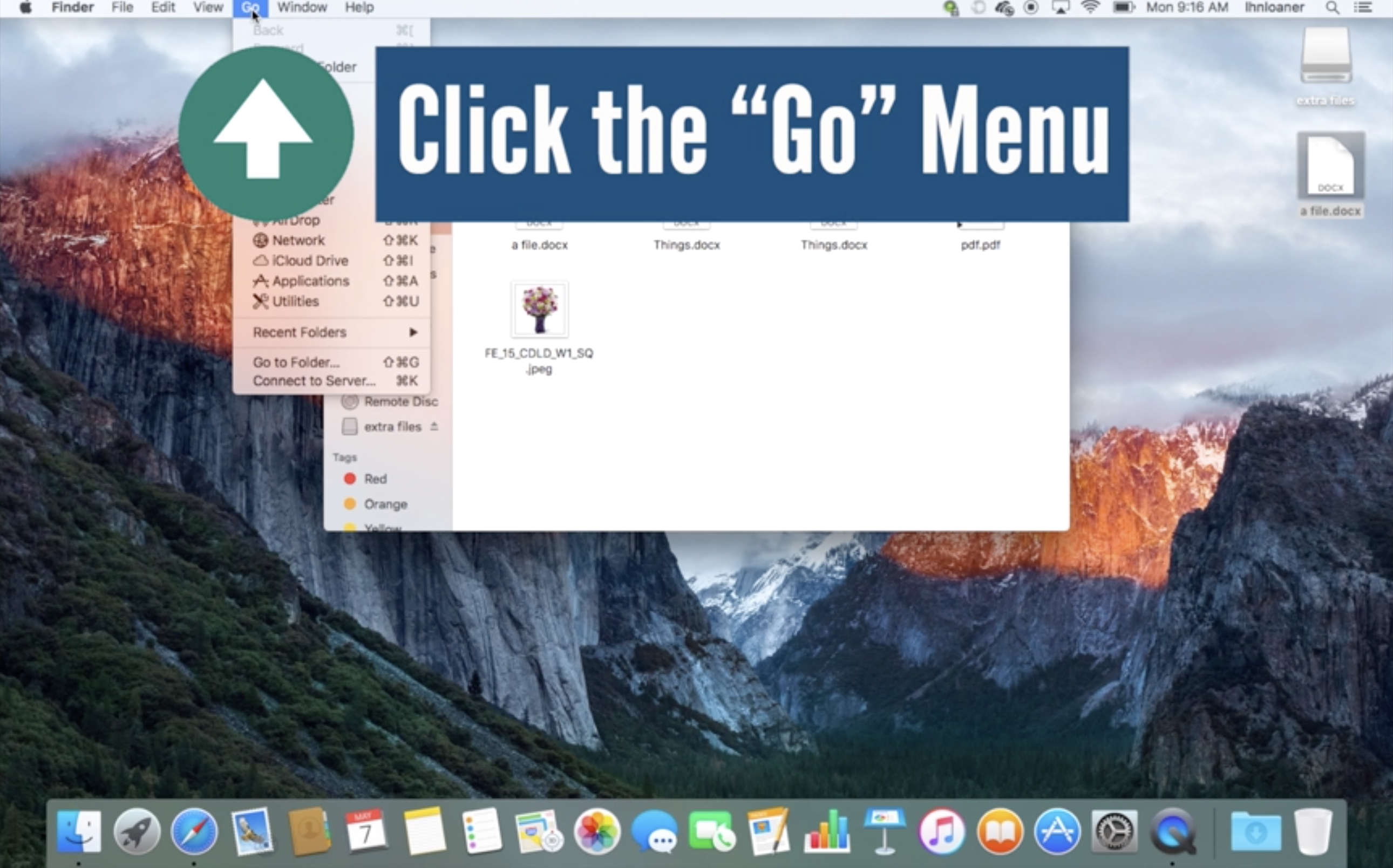 Inside of the home folder, you should see these folders:
Desktop (contains all of the files that you've saved to your desktop)
Documents
Downloads
Pictures (if you've used iPhoto, Photos or PhotoBooth, any photos or video that you've saved in those files will be saved here in a Photos library or a PhotoBooth library)
Movies (if you've used iMovie or Final Cut, all of your clips and projects will be stored in this folder by default)
Music (If you've used iTunes, anything in your iTunes library is saved to this folder)
(Possibly) OneDrive, Google Drive or Dropbox folders
Where do I back it up?
Back up to USB:
You can back up everything in your home folder by plugging in a USB drive and dragging a copy of these files and folders to your USB drive. This video will show you how to do this: Click here to watch the video (no sound)
Back up to OneDrive:
You can also drag items that you want to save into your OneDrive folder. Please note that backing up any kind of "library" file to OneDrive won't work correctly and you will get errors. If you'd like to back up your Photos, Photobooth or iTunes library, the best way to do this is to drag it to a USB drive.
If you haven't set up OneDrive, this guide will show you how.
This video shows you how to drag files to OneDrive from your home folder.
Back up your browser bookmarks and favorites:
Sites that you've bookmarked (or favorited) in Safari, Firefox or Chrome aren't saved in your home folder. If you want to keep these, you'll have to back them up separately. This guide will help you save your bookmarks to a file. *After you make a file of your bookmarks, be sure to back up that file to a USB disk or OneDrive.
If you sync your bookmarks through iCloud, Google or Firefox, you don't have to back them up. They'll automatically follow you any time you sign in on a new computer. Of course, it never hurts to have a backup like I described in the paragraph above this. The following guides will help you set up bookmark syncing:
Backing up notes:
Apple Notes:
We do not recommend that students use the Apple Notes application because they are not able to access iCloud settings. The only way to reliably back up Notes on a student computer is:
Copy the contents of each note and paste it into a document that you can save, such as Word, or even into an email that you send to yourself.
Alternatively, click on each note and go to File - export as pdf and save each note as a pdf.
You could also use the share button to email each note to yourself
Be sure to back up the new files you've created to a USB or OneDrive
On a teacher computer, you can either use one of the methods listed above, or you can turn on iCloud sync for Notes: https://support.apple.com/en-us/HT205773
OneNote:
If OneNote was set up correctly, it should be syncing to OneDrive.
This guide will show you how to see if the sync is up to date.
Saved passwords:
If your computer has been saving passwords for you, there are a few ways to access these and back them up.
iCloud sync for computer and Safari passwords:
On a teacher or staff computer, you can use iCloud keychain to sync your saved passwords to another Apple device: https://support.apple.com/en-us/HT204085 This will include any passwords that you've saved in Safari, plus many other passwords that your Mac has stored in it's Keychain. (If you are a student, you won't have access to iCloud)
Firefox passwords:
Use Firefox sync to save passwords that are saved in your Firefox browser: https://support.mozilla.org/en-US/kb/how-do-i-set-sync-my-computer
Chrome passwords:
Use Chrome sync to save passwords saved in Chrome: https://support.google.com/chrome/answer/185277?co=GENIE.Platform%3DDesktop&hl=en-GB
View saved passwords:
If you just want to see passwords that your browser has saved so you can make a note of the important ones, this guide will show you how.