If you would like to view your student's assignment dues dates, announcements, and other course content in Canvas, you can sign up for a parent observer account.
Get a pairing code from your student(s):
The first step is to obtain a "Pairing Code" from your student(s). Ask your student(s) to log in to Canvas on their own computer.
Once they are signed in, they will click on "Account" on the left and then on "Settings"
Now, on the right side, they'll click on the "Pair with observer" button
You will get a code that is unique to that child. Write down that code - you'll need it later.
You can use this code to set up more than one parent observer account if you need to, just be sure to use it within 7 days or you'll need to generate a new one.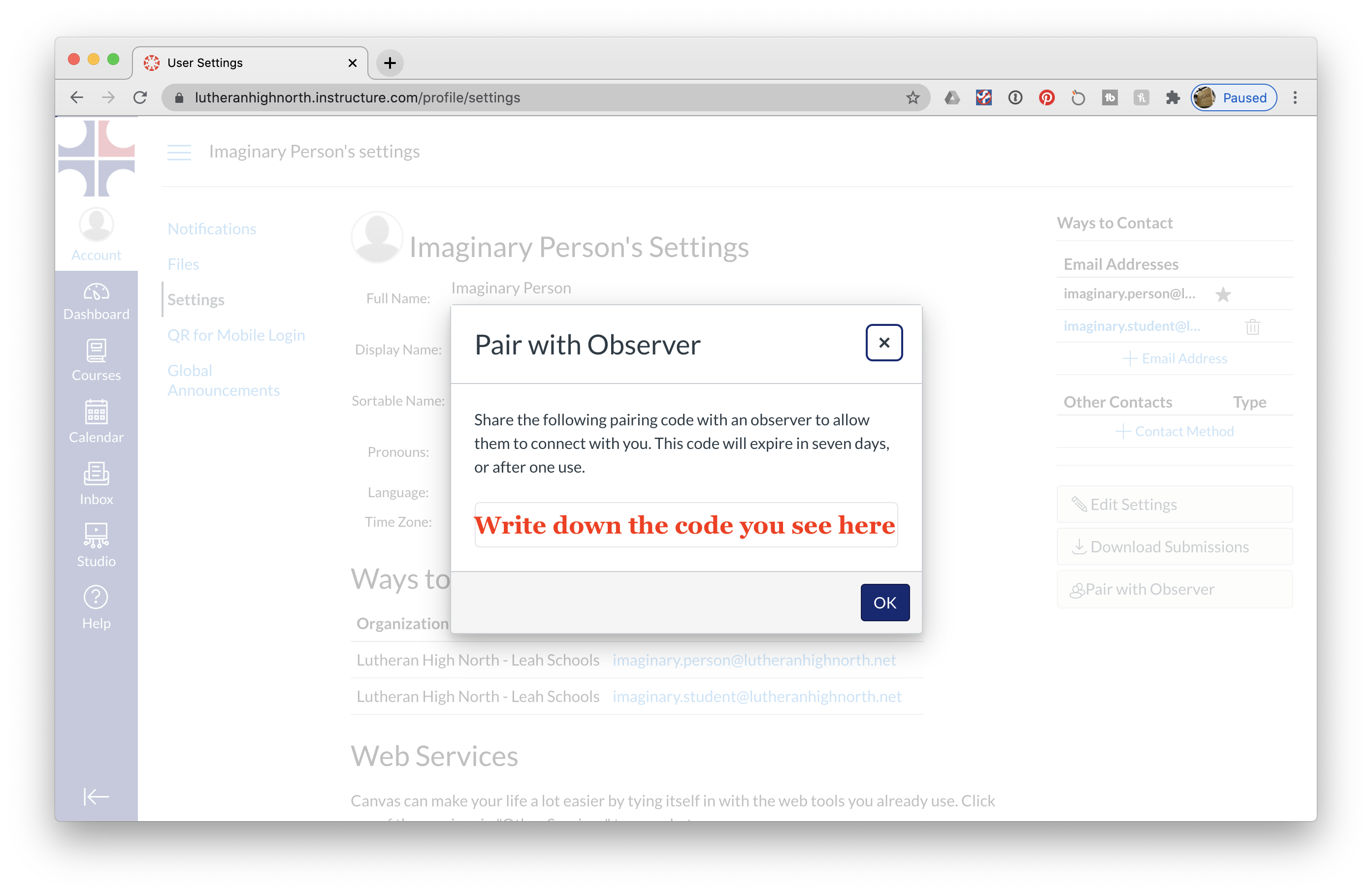 If you have multiple children, repeat this process for the other children and get a unique code for each of them.
Set up your parent account
To set up a parent account go to this url:
LHN Parents: https://lutheranhighnorth.instructure.com/login/canvas
LSA Parents: https://lutheransouthacademy.instructure.com/login/canvas
WL Parents: https://westlakeprep.instructure.com/login/canvas
You may want to add that link to your bookmarks / favorites so you can get back to it easily. Please note that this link is only for parents to log in. Students log in using their Office365 email, so they have a different url (they log in without the /login/canvas part of the url)
Also note that Canvas works in any browser, but we've had the best experience using Google Chrome.
Once you're at the correct website, you'll click on "Click here for an account"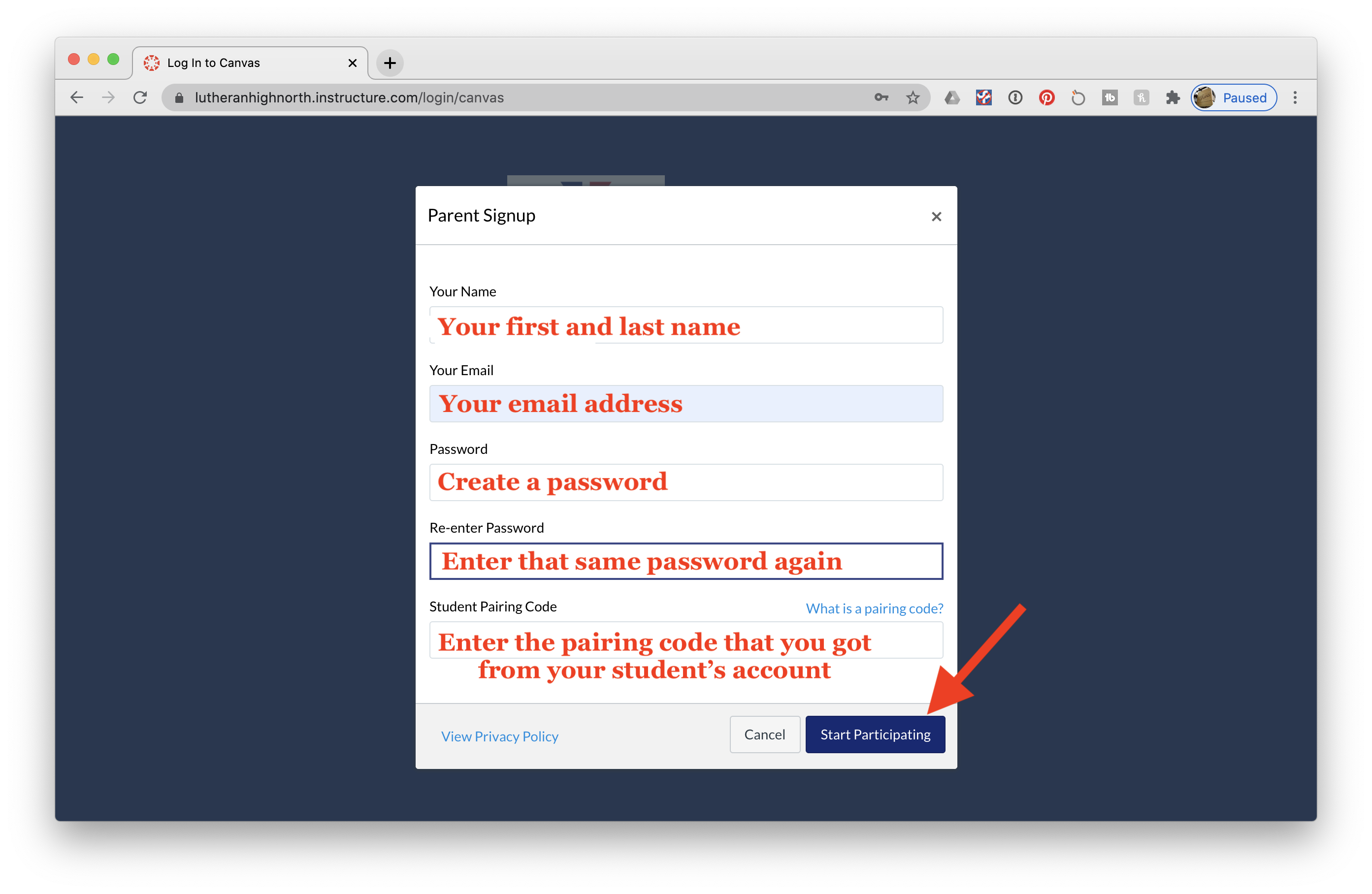 Fill out the form with the appropriate information and then click the "Start Participating" button
You should be taken to your dashboard where you can see all of your student's courses. The following image will give you an overview of what you will see:
Observer restrictions
As a parent, you will be able to see most of the content that teachers post, but there may be some content that is not available to you. This content includes quizzes, Office365 shared content, discussion posts, assignment submission areas, and some third-party plugins. For a full list of what you will be able to see or not see as an observer, take a look at this article: https://community.canvaslms.com/t5/Canvas-Basics-Guide/What-is-the-Observer-role/ta-p/4
If you need to see more content than your observer account allows, you can ask your child to show you the content on their computer.
Need to observe multiple students?
If you have another student that you need to observe, have them go through the same steps to generate a pairing code. Write that code down and follow these steps:
In your PARENT account, click on "Account" on the left side and then on "settings"
Now click on "Observing"
Enter the pairing code that the student generated from their account and then click the "+ Student" button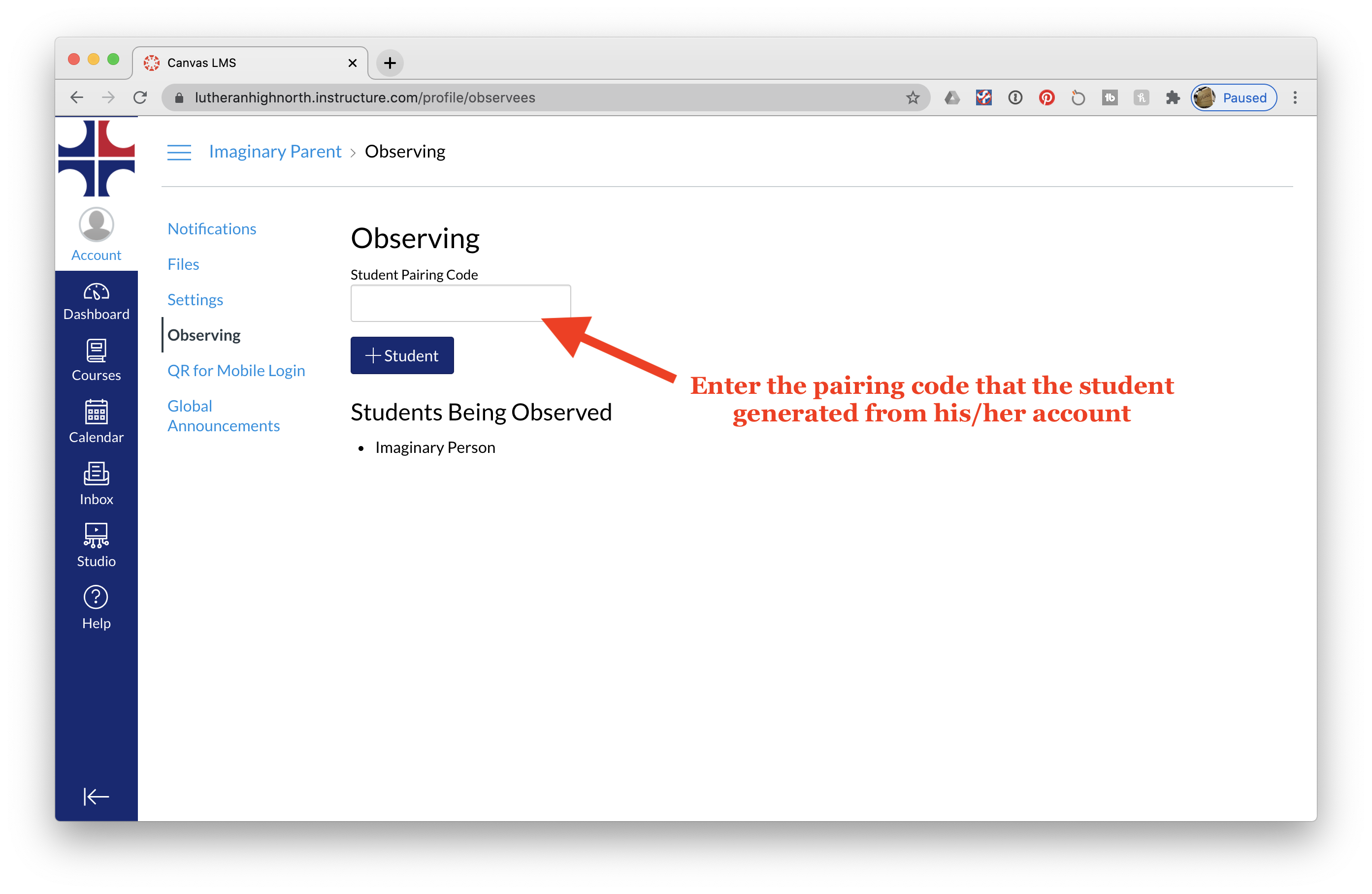 Repeat for as many students as you need to add
You will now see all of their information in your account.